News and Events

News
2001
01/01/01
Jumping off to greet the New Year KUALA LUMPUR: Thousands of locals and foreign tourists thronged the KLCC park to witness a team of international skydivers leap off the world's tallest building and into 2001 yesterday. The countdown cheers from the crowd could be heard from afar as 15 skydivers from the Malaysian SkyVenture TransMillenium World Record Extreme Skydive made their attempt to set three world records: the largest mass jump off a building and from the world's tallest building and jumping from one millennium to the next.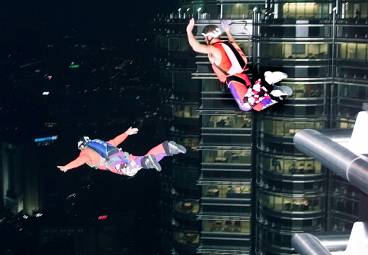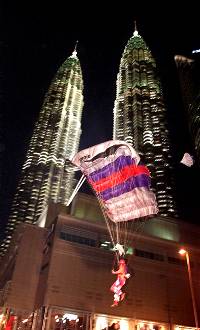 SOFT LANDING ... a skydiver landing at the KLCC after spectacular jump from the tallest building in the world. Prime Minister Datuk Seri Dr Mahathir Mohamad and wife Datin Seri Dr Siti Hasmah was also there to usher in the New Year and to witness the record-breaking feat. The KL Twin Towers at 452m is currently the tallest building in the world.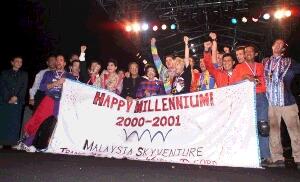 Note: Two of our instructors took part in this event, Mr Azlan Ismail (2nd from right) and Mr Aziz Ahmad (4th from right).
20/01/01
A mini boogie was held for two days (20/01/01 - 21/01/01). This event was organised by Royal Malaysian Airforce (RAMF) and Fikiran syndicate Sdn Bhd. About 50 jumpers from various clubs in Malaysia and Singapore turned up for the event. The aicraft used was MI-17 helicopter that can fit 20 jumpers at a time. The jumpers got 6 jumps each. Good for skydiving community in Malaysia especially Wilayah.
01/02/01
Five skydivers from Wilayah and Selangor took part in the 'Hari Wilayah Base Jump 2001' event. This a base jump event from Kuala Lumpur Tower. Base jumpers from all over the world also took part in this yearly event.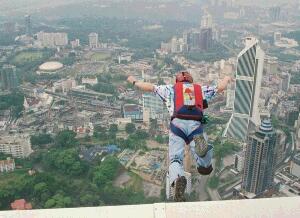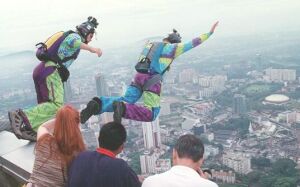 skydiving Links
Here are some of the links that might help you to locate or to know more about the sport of skydiving. Feel free to visit these sites:

Sportworld